The American Friends of the Lebanon Mountain Trail (AFLMT) participated in the Lebanese Diaspora Energy (LDE) North America convention held in Washington, DC during September 20-21, 2019, and AFLMT President Joseph Karam presented at a panel on tourism.
After showing the 2018 short movie "Hike It, Protect It" produced by the LMT Association (LMTA), Joseph spoke about the amazing values of the trail, particularly its importance in connecting the Lebanese Diaspora with the homeland, saying: "The Lebanon Mountain Trail offers you an opportunity to reconnect with your origins, to discover or rediscover the heart of Lebanon!  You will gain experiences that will stay with you for the rest of your life.  And you will want to return again and again, and tell your children, family and friends to go to Lebanon and walk on the LMT!" He invited the audience to consider joining the LMT Thru Walk that takes place each year in April, or the annual Fall Trek in October.  LMT events like this bring sustainable job and income opportunities to marginalized mountain regions of Lebanon and encourage local communities to conserve their natural and cultural heritage.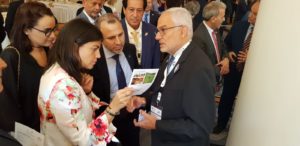 Joseph lauded the amazing work done by the LMT Association (LMTA) volunteers, staff and board members to develop, maintain, protect and promote the trail.  He encouraged the Lebanese Diaspora to follow the LMT on social media, such as the websites, Facebook pages and Instagram accounts of the AFLMT and LMTA; invite their friends to like or follow those pages; and make tax-deductible donations to the AFLMT in the U.S. that will be used to issue grants to the LMTA.  Thanks to individual and corporate donations received since 2009, the AFLMT has awarded grants worth more than $100,000 to the LMTA to date.  Joseph also announced that the AFLMT is seeking champions and new board members from across the U.S. to support its mission.
During the convention, the AFLMT exhibited LMT materials, including pins, flyers, magazines, and books at a dedicated booth manned by Joseph  and the Ambassador of the LMT in Canada, Ms. Wafaa El-Osta.  Several convention participants dropped by the booth and inquired about the AFLMT's programs and activities, including Lebanon's Minister of Foreign Affairs Gebran Bassil, who spoke about the positive ripple effects of the LMT, including the beautiful trails and guesthouses that are coming to light in his own home province of Batroun.  AFLMT's participation in the LDE North America conference reinforces President Michel Aoun's embrace of the LMT last March as a national trail for the Lebanese people and Lebanon.