Drawing on a "seed grant" from the American Friends of the Lebanon Mountain Trail (AFLMT), made possible by a donation from ECODIT, the Lebanon Mountain Trail Association (LMTA) has just completed a total facelift and updating of the network of directional signs, interpretive panels, and information panels along the Baskinta Literary Trail (BLT).
Baskinta's proximity to Beirut makes it an attractive destination for those looking to escape the city for a day or a weekend, for schools and educational institutions planning a cultural activity for students, and for adults interested in reconnecting with or discovering a rich and universal literary heritage.  If you happen to visit the BLT without having read Naimy's The Book of Mirdad or Maalouf's The Rock of Tanios, to name just two examples, chances are that you will want to get and read those books after your visit, and then return to experience the BLT again!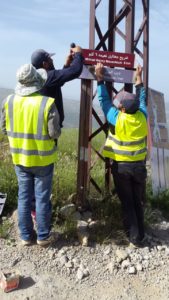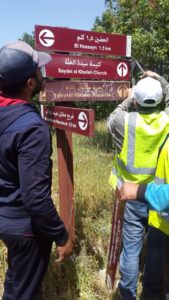 LMTA staff and volunteers, including members of the local BLT Committee, began by maintaining the nearly 100 wooden signage posts by sanding, preparing and staining the wood into a beautiful new finish.   Working with the local BLT Committee, The LMTA rerouted certain sections of the BLT to reflect realities on the ground, redrew the map of the BLT, and redesigned the information and interpretive panels to incorporate the new map and the logos (some new) of the BLT sponsors. Last but not least, the LMTA worked with the same vendor that produced and installed the original posts and signage, Via Liban, to produce and install the new panels and directional signs, which reflect the latest trail changes, such as near Bkaatouta where the Bekaata dam under construction has forced the deviation of the BLT.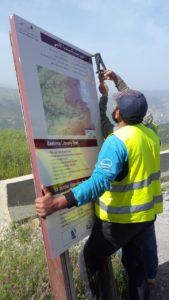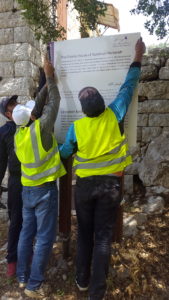 The AFLMT grant is aligned with an ongoing effort to install infopanels at several historic villages along the LMT.  In addition to directional signs placed at the trailhead and at the town entrances, infopanels are bigger sheets that show the hiking map and area information; they tell the story of the village and point to its historic landmarks and attractions. Today, approximately 45 directional signs are scattered along the LMT in different locations, along with 21 interpretive panels and six information panels in select gateway communities.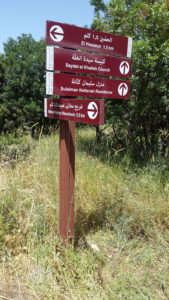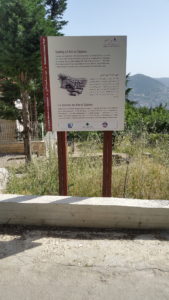 In Lebanon, where aggressive, unregulated development threatens the trail's integrity and leads to continuous trail detours, blazing and maintaining the LMT are a real challenge… and a necessity!  Trail signage is an essential element of trail building and maintenance, establishing the LMT identity as a structural part of the landscape, improving accessibility and interpretation of the trail, adding value for trail communities, improving the visitor's experience, and protecting the trail.
By the AFLMT Board of Directors